Some of these standing man figures are available, I would sculpt additional ones in the same style if you wanted this option. These Mount on posts or short steel shelves, varying heights.
More figure optoins showing their arrangement at different heights. Various pole/pedestal or shelf mount options available.
Available. Newest head sculptures showing new style thin open pedestal mounts
Close up of head on new style pedestal - four open bars, top dimension 3" square
Available New head series on new-style steel pedestal. Would suggest multiple heads of varying heights, perhaps three. Could be different colors that enhance the form. This one has extra elements we could decide on or just have heads without extra accessory elements.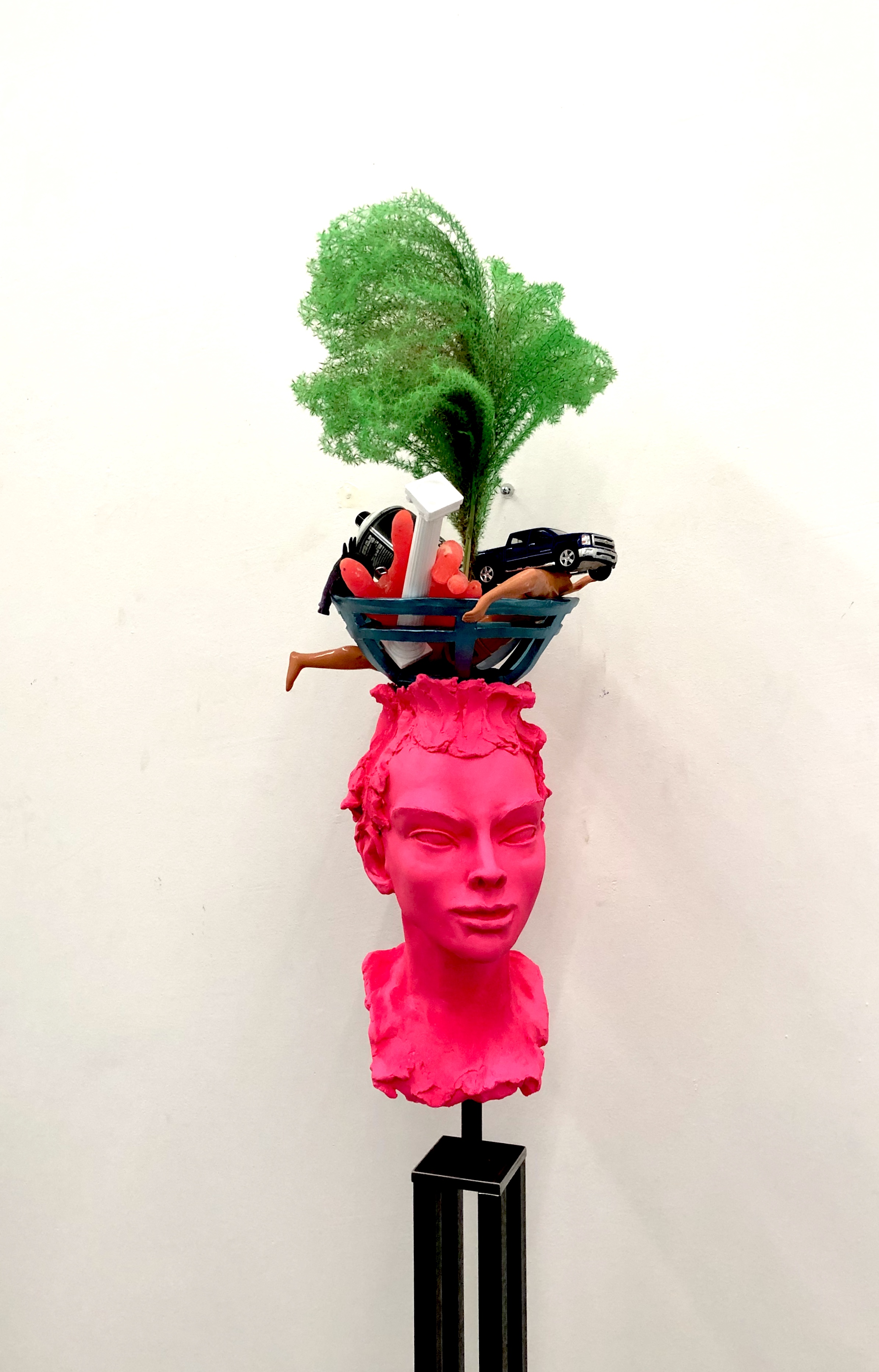 Placing three of these Man on Tall Pillar works together would create a powerful visual impact. Each would have different hand gestures, to be chosen by you.
A relief of multiple figures like this one could be created in the appropriate size for this wall. This piece is about 32" wide by 15" H
This wall relief, ceramic heads on steel plates is available, and the central gold leaf head could be replaced with something slightly larger, or another similar piece created. 27"H x 53"w
A collection of colorful glazed heads on steel wall mounted panel could be created in any size you like. Steel is thin (16 gauge) mounted on wood to reduce weight and give a way to hang the work on a wall.
Another popular direction with the glazed ceramic on steel, with calligraphic etching of the steel using brushed chemical etching, then sealed.
Study for a possible commission for you - Ceramic on steel - head and hand elements would be glazed stoneware, the rest is etched steel as in previous work. sized to work on your wall.
Another commissioned approach for you- three panel set of ceramic on steel with orange etching. Designed tof it your space - Each panel would be approximately 36x18", tbd.
Unstructured Presence, availabe, 23"H x 30" W, glazed stoneware on steel with wood elements, wall mounted.
Available. Unstructured Presence, bronze, aluminum, brass- this mounts on a pedestal near the wall, supported by the two large wood support parts. larger - approx 42"H x 42"w
Available, wall relief, Cscape #48, Rhizome. 36"W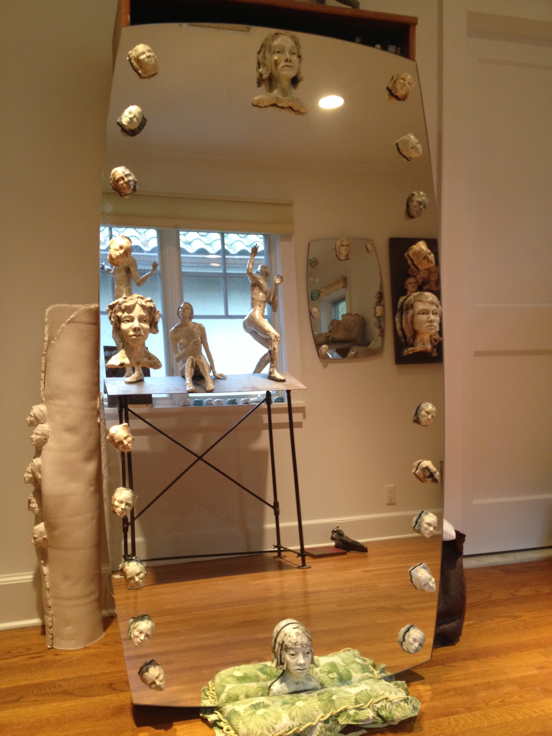 Available, glazed ceramic heads mounted on custom cut mirror, 60"H
Available, Gandhi, work in progress- (glasses not yet mounted), cast bronze, silver patina. Would go on a pedestal or wall shelf. limited edition of 9, one silver and one white bronze available. Finished photos on request
Works by Kathleen Mulcahy, represented by Kim Foster Gallery. I spoke with Kim and these can be created for you in any size. Stainless steel back, glass drops, wall mounted.
Joel Shapiro works - multiple ones here. If desired I would use one of my own gestures/designs agreed with you and have my welder create a similar work for you in any color size.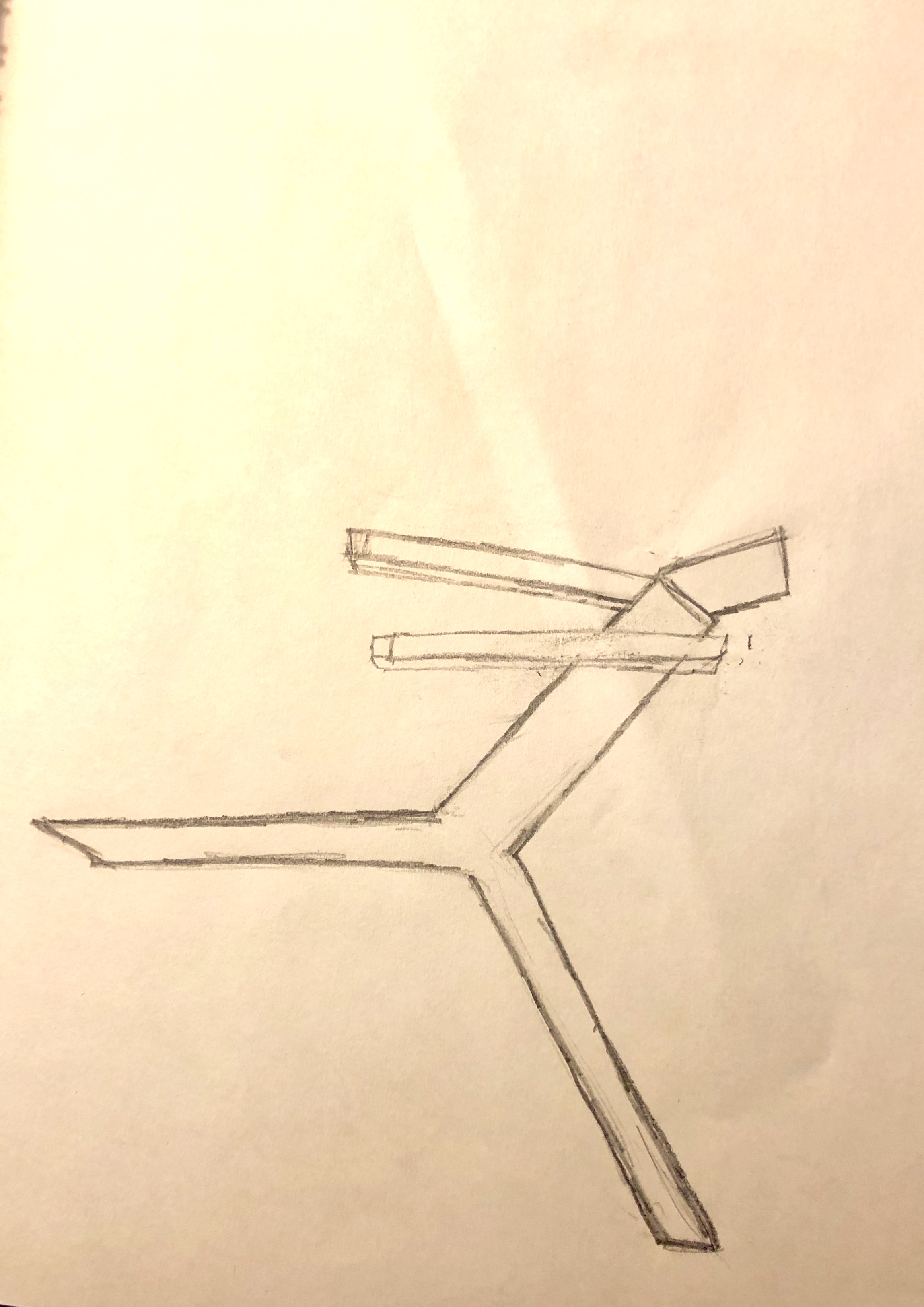 My design options for dancing figures to be created in steel or wood or plastic. Can floor mount (fancy) or we could make a base that it gets mounted into.
Other clyatt design for joel shapiro inspired piece
My hanging hands mobiles in multiple colors and materials, life cast, a custom installation could be made for your entry hall near the elevator.